ABOUT BYRNE, RICE & TURNER
Since 1947, Bryne, Rice & Turner, Inc. has been serving the marine industry. You will find our personnel knowledgeable and eager to serve you.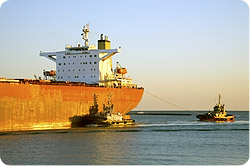 We listen to our customers. We welcome feedback from you in order to better serve you. If there is a particular item that you want us to stock, or a type of service that you need, please bring it to our attention so we can better serve you.
We warehouse and distribute many of the items represented here. In some cases, we are the exclusive distributor. We cannot keep all of the items represented here in stock, so we regularly evaluate inventory requirements based on customer demand in order to offer the most efficient service to our customers. It is certainly not our intention to imply that we manufacture or have any exclusive rights of distribution to every one of the items represented herein. If the item you need is not in our current inventory we usually can quickly drop ship it to you directly from the factory. If you need something special and it requires custom manufacturing we can do that too. More often than not we can also do that quickly.
Loyal customers know they can expect a little something extra from Byrne, Rice & Turner. This website is not a departure from that tradition. You will find that even our website contains a little LAGNIAPPE! In keeping with the New Orleans tradition, lagniappe is "a little something extra," a sort of baker's dozen, if you will. Sprinkled throughout this website you will find humorous, helpful, and thought provoking tidbits for your enjoyment.
Also included are items of patriotic thought. The United State was blessed with a unique beginning. Many individuals purchased the freedoms we enjoy today at a great price. Liberty is an idea embraced by a culture. Liberty is not solely threatened from external sources – internal threats can eat away at our liberty like a cancer. Liberty can be gradually lost to ideas whose inferiority is hidden by their appeal to immediate gratification. Edmund Burke said "All that is required for evil to triumph is for good men to do nothing." It is our sincerest hope that none of us will take the blessings of this country for granted, and that more countries will make these blessings their own. Therefore, we have included some items of patriotic thought on our website and in our catalog. I am sure you will find them interesting, informative and enjoyable as we have.
Here are a few online links for your consideration…
We look forward to serving you, and truly wish God's best for you and your loved ones.
Sincerely,

John Rice