DF-356 FASST Winder Winches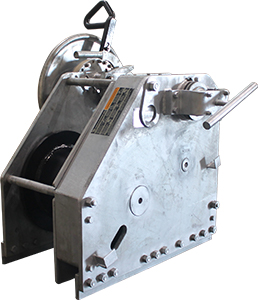 ---
Features
Hot-dipped Galvanized coating.
Patented high load release dog with secondary anti-backlash drag brake that is activated automatically with the release of the dog.
High load release brake is a multi-disc system that incorporates all stainless steel moving parts.
No hot work required: mounts to DF-3, DF-156 and some competitors models.
Heaviest winch in its class at 1,650 lbs.
Incorporates our powerful FASST Winder system.
No ratchet or ratchet handle extension.
Ergonomic height.
Uses standard 40-ton winch drive train.
Fully guarded gears.
Fastest and easiest way to fully tighten a winch.
---
Downloadable Documents
---
Specifications
MODEL No.
HOLDING DOG &/OR BRAKE
LINE PULL @ FIRST LAYER WITH ONE MAN
DRUM CAPACITIES (FT)
WEIGHT
DF-356-UFW
S. TONS
HAND WHEEL
RATCHET W/ STD. EXT.
5/8″
3/4″
7/8″
1″
1-1/8″
LBS
40-11-M
40 TONS
8,000
17,800
340
219
132
115
60
1,650
40-18-M
40 TONS
8,000
17,800
563
363
224
198
107
1,875
---
Dimensions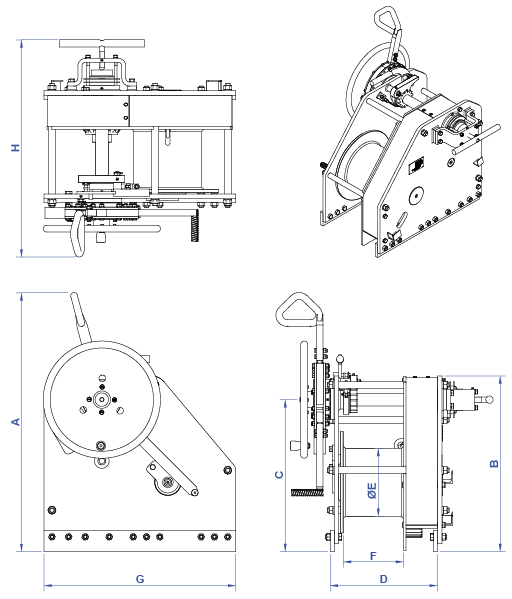 | MODEL No. | PART No. | A | B | C | D | ØE | F | G | H |
| --- | --- | --- | --- | --- | --- | --- | --- | --- | --- |
| 40-11 | REFER TO COATINGS TABLE | 48-9/16″ | 33″ | 28-1/2″ | 20-1/8″ | 12-3/4″ | 11-1/4″ | 36″ | 40-3/4″ |
| 40-18 | REFER TO COATINGS TABLE | 48-9/16″ | 33″ | 28-1/2″ | 26-1/4″ | 12-3/4″ | 18-1/8″ | 36″ | 46-7/8″ |
| COATINGS | RH WINCH PART No. | LH WINCH PART No. |
| --- | --- | --- |
| GALVANIZED 40T-11 | 63031 | 63030 |
| GALVANIZED 40T-18 | 63023 | 63022 |
Showing the single result
Showing the single result