Safety
SAFETY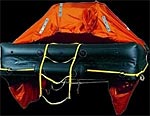 Whether outfitting or repairing, Byrne, Rice & Turner is in a position to assist you with your Marine Safety requirements.
Byrne, Rice & Turner maintains stocks of commonly requested Marine Safety items and maintains excellent relationships with at least the manufacturers listed below so that items you require can be obtained efficiently and cost effectively.
To see a more complete list of the manufacturers that we represent click here. Don't hesitate to call our office to order or for assistance. 800-725-3787. Outfitting Mariners is our only business.
Manufacturer

Byrne Rice& Turner
Stock Notes
Emerald Marine Products
Manufacturers of life-saving equipment for the maritime industry.


ALERT Man-Overboard Alarm System provides the quickest and most affordable awareness of a fall overboard situation. OSCAR – Water Rescue Training Dummy durable and portable training dummy provides realistic weight and height when filled with water.



Jim-Buoy
Cal June Fenders, Life Rings, Mooring Buoys, etc.


BRT offers fast delivery on the entire Jim-Buoy line.

Revere Survival


Life Saving Equipment

Sales and service of a wide range of inflatable rafts and supplies, including pyrotechnics.
---
Showing the single result
Dijon vu–The same mustard as before.
Showing the single result