Oval, Freeman Marine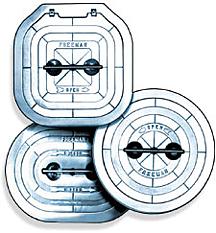 Freeman Marine 2400 Series Cast Aluminum Oval Hatches are available in a variety of sizes and shapes. Standard models have a cast aluminum cover, aluminum dogging mechanism, and your choice of cast aluminum, steel, galvanized steel, or stainless steel rings.
Freeman Marine's uniformly spaced dogs are superior to the "yoke" or "strongback" type seal mechanisms which cause inherent cover distortion and sealing problems. FREEMAN 2400 Series Cast Hatches feature a stainless steel handle and round bar shaft for trouble free operation.
Click below to be taken to the more specific category:
[Oval Flattop]   
[Oval Hinged]   
[Oval Lift Out]
Sizing Charts and additional details are found here on the Freeman Marine website.
Order your Freeman Marine 2400 Series Cast Aluminum Hatch by calling our offices (800-725-3787).
Select one of the hatch types from above to see hatch specifications and prices.
---
Available Options Include:
Inside Escape Handle or Wheel (varies by hatch size).
Stainless Steel Dogging Mechanisms
Concealed Yoke Hinges
Hold Open Device
Interlocking Bayonet-style Lifting Handle, stored elsewhere on the vessel.
Bi-Square Spindle
Polyurethane Painted Finish
---
Brain cells come and brain cells go, but fat cells live forever.