Nabrico Parker Winches
NABRICO PARKER TOWING WINCHES – 25 Ton, Manual, Electric, or Hydraulic
Order from BRT Marine, 800-725-3787
BRT Marine is pleased to supply Parker Towing Winches. Marketed under the Parker name but owned by Nabrico, the Parker line will benefit from the added support of Nabrico's commitment to quality, inventory practices, commitment to product improvement, and customer service.
Electric and hydraulic models are now offered that allow all manual units to be retrofitted.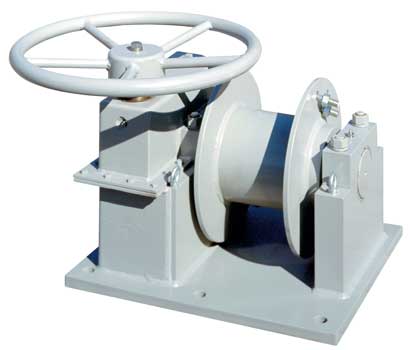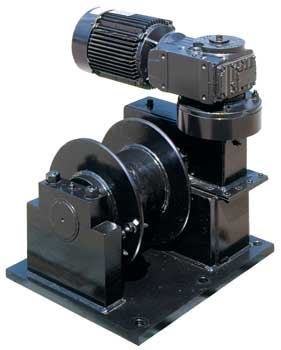 ---
Features
All steel construction.
Self locking wormgear design.
Bronze bushed bearings.
Alemite fittings for proper lubrication.
True left and right hand models for use in pairs.
Blasted and painted, galvanized and other coatings available.
---
Specifications
MODEL No.
HOLDING CAPACITY
LINE PULL @ FIRST LAYER OF CABLE
LINE SPEED @ FIRST LAYER OF CABLE
DRUM CAPACITY (FT)
MOTOR
S. TONS
@ RATED AMPS (LBS)
@ MOTOR STALL (LBS)
HAND WHEEL (LBS)
FPM
1/2
5/8
3/4
7/8
1
HP
DF-170-25
25
5,800
7,500
7,000
25
230
195
125
90
65
5.4
---
Dimensions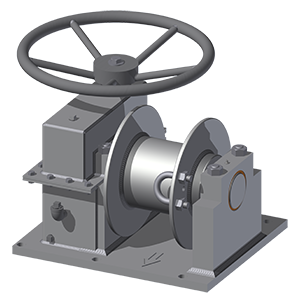 LEFT HAND WINCH SHOWN IN 3D MODEL, RIGHT HAND WINCH OPPOSITE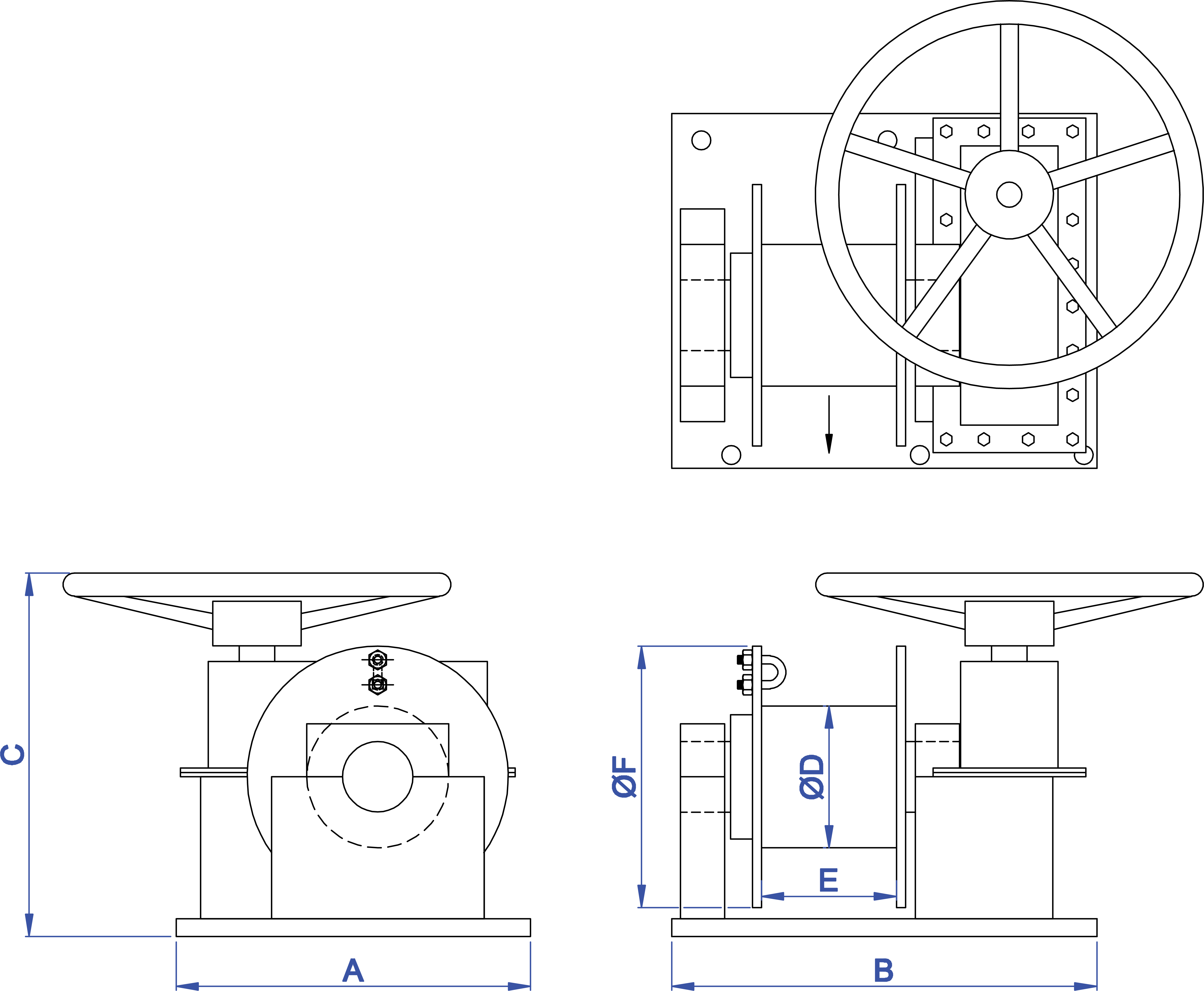 | MODEL No. | PART No. | A | B | C | ØD | E | ØF | WT (LBS) |
| --- | --- | --- | --- | --- | --- | --- | --- | --- |
| DF-170-25-M | REFER TO COATINGS TABLE | 20″ | 24″ | 20 1/2″ | 8″ | 7 5/8″ | 14 3/4″ | 680 |
| COATINGS | RH WINCH PART No. | LH WINCH PART No. |
| --- | --- | --- |
| PAINTED | 100506 | 100501 |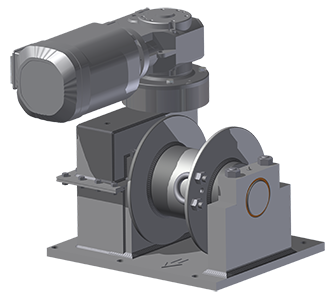 LEFT HAND WINCH SHOWN IN 3D MODEL, RIGHT HAND WINCH OPPOSITE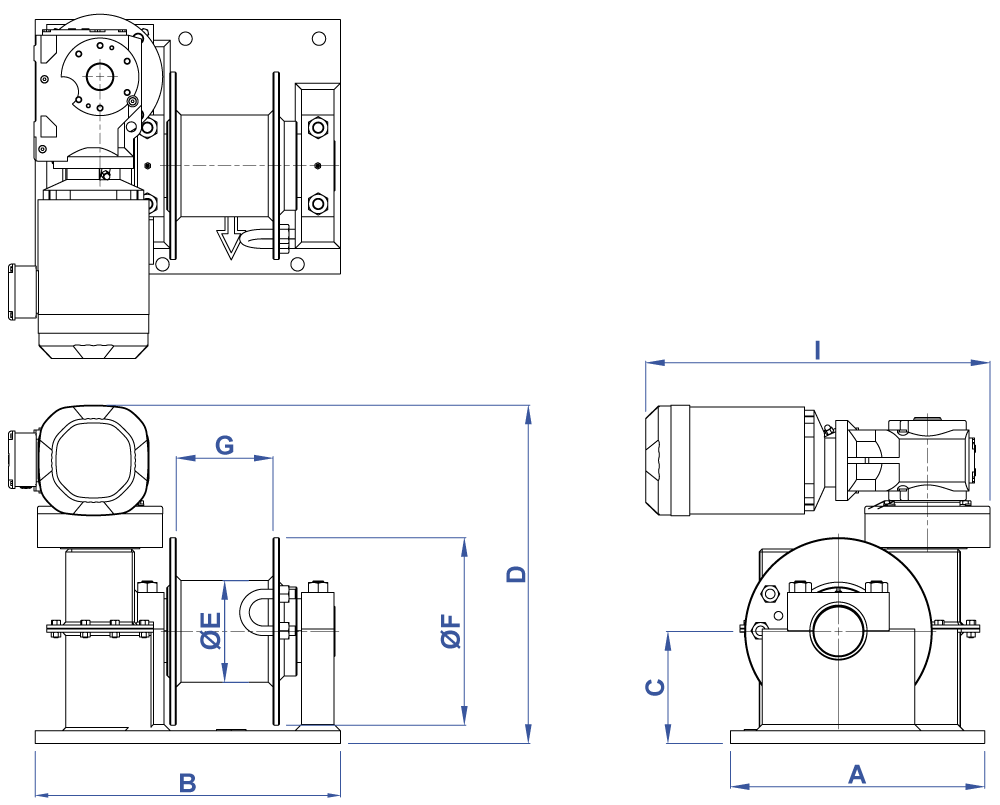 | MODEL No. | PART No. | A | B | C | D | ØE | ØF | G | H | WT (LBS) |
| --- | --- | --- | --- | --- | --- | --- | --- | --- | --- | --- |
| DF-170-25-E | REFER TO COATINGS TABLE | 20″ | 24″ | 8 13/16″ | 26 5/8″ | 8″ | 14 3/4″ | 7 5/8″ | 27″ | 840 |
| COATINGS | RH WINCH PART No. | LH WINCH PART No. |
| --- | --- | --- |
| PAINTED | 100507 | 100502 |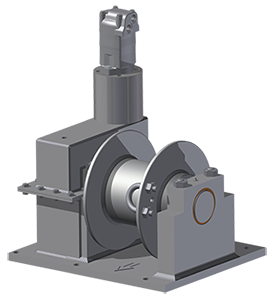 LEFT HAND WINCH SHOWN IN 3D MODEL, RIGHT HAND WINCH OPPOSITE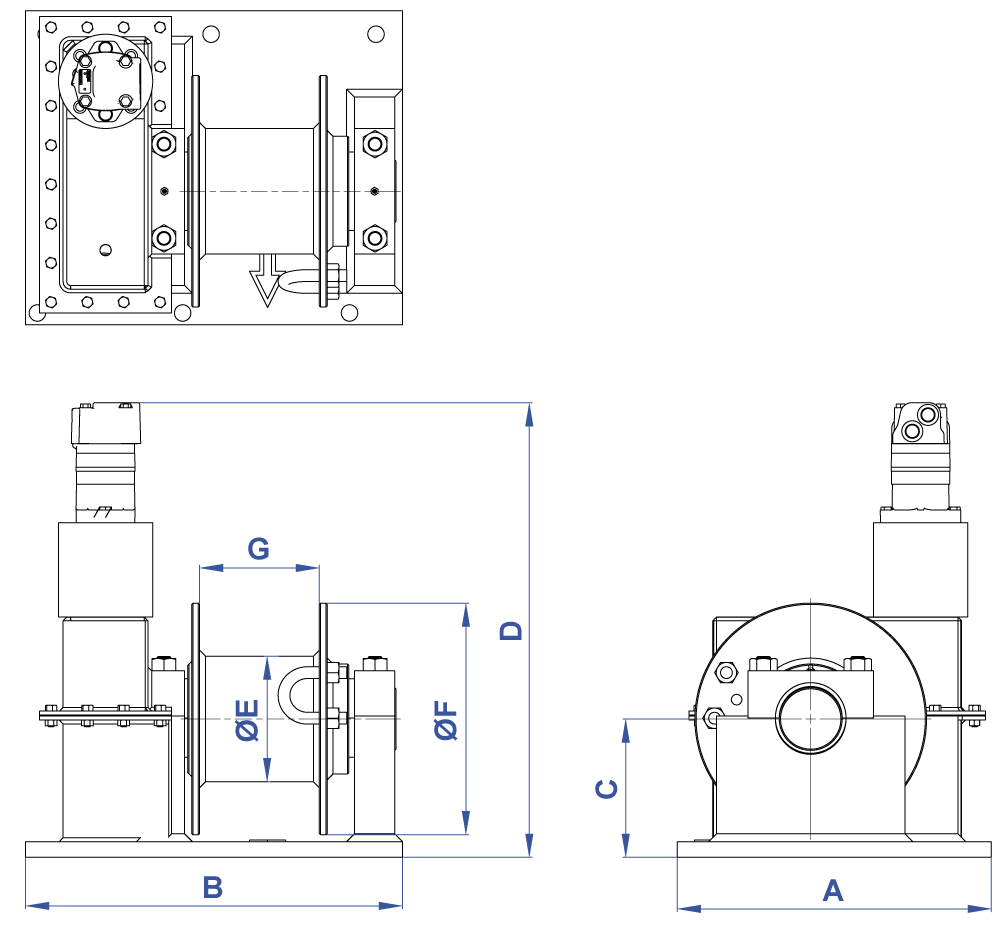 | MODEL No. | PART No. | A | B | C | D | ØE | ØF | G | WT (LBS) |
| --- | --- | --- | --- | --- | --- | --- | --- | --- | --- |
| DF-170-25-H | REFER TO COATINGS TABLE | 20″ | 24″ | 8 13/16″ | 29″ | 8″ | 14 3/4″ | 7 5/8″ | 840 |
| COATINGS | RH WINCH PART No. | LH WINCH PART No. |
| --- | --- | --- |
| PAINTED | 100911 | 100910 |