Deck
Deck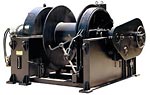 Whether outfitting or repairing, Byrne, Rice & Turner is in a position to assist you.
Byrne, Rice & Turner maintains stocks of commonly requested items and maintains excellent relationships with at least the manufacturers listed below so that items you require can be obtained efficiently and cost effectively.
To see a more complete list of the manufacturers that we represent click here. Don't hesitate to call our office to order or for assistance.800-725-3787.  Outfitting Mariners is our only business.
Manufacturer

Byrne Rice& Turner
Stock Notes

Buck Algonquin
Marine Hardware since 1955
Cen-Tex Marine
Marine Closure Fabrication

BRT maintains a large stock of watertight doors and standard size hatches. Custom size hatches, doors and scuttles available with quick lead time.

Cornell-Carr
Marine Windows and Doors
Well recognized window and door supplier for both Military and Commercial Marine applications. Excellent quality at competitive prices.
BRT stocks some wipers, portlights, and windows.
Freeman Marine
Aluminum Marine Closures

We stock a wide range of premium Freeman Marine Hatches and Doors. Call us.

Jeamar Winches


Your first choice for winching solutions.
NABRICO
Offering a full line of Deck Hardware.

BRT stocks a large inventory of NABRICO items and parts which are available for immediate shipment

Peck Hale


Cargo Securing Systems

Penray


Marine Coolants and Chemicals
Perko
Marine lights, hardware, and accessories.

BRT maintains a large inventory of searchlights and navigation lights which are available for immediate shipment

Thern
Winches and Cranes

A wide range of winches and cranes are available from stock. Winches and cranes designed for custom applications are also available.

Wintech


Marine Winches
---
Boo and Tee see a leettle green creature.
Pierre and Boudreaux were on a weekend hunt when de witnessed a UFO landing. Ad de leettle green creatures descended from de craft Pierre said, "Mais what's dat?"
Boudreaux answered, as he aimed his gun: "I don't know, Pierre. But you better go back to the camp and put some rice on.